INFORMATION PUBLISHED ON
AT.NAIFA.ORG
---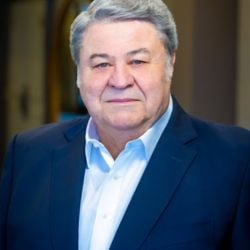 John Wheeler is an accomplished Certified Financial Planner (CFP) with a wealth of experience in the financial services industry since 1969. He has earned several impressive designations, including Chartered Life Underwriter (CLU), Chartered Financial Consultant (ChFC), Chartered Retirement Planning Counselor (CRPC), Life Underwriter Training Council Fellow (LUTCF), LACP, and CLTC. In his current role, John supports his firm through seminars, advanced joint sales work, recruiting, and developing financial planning services. He is a highly respected speaker in the financial services industry and has also taught various certification programs such as the CRPC and CFP.
HERE'S A GLIMPSE OF WHAT YOU'LL LEARN:
John Wheeler explains what inspired his pursuit of the insurance industry
The value of education in the financial services industry
The relaunch of the LUTCF program
John talks about the importance of joint work
Communication tips for young advisors
Why is it important to volunteer as a leader in the financial services industry?
How John transitioned from being a mentee to a mentor
John shares his unique communication method others have coined as "Wheelerisms"
Benefits of supporting organizations affiliated with the financial services industry
IN THIS EPISODE…
As a financial advisor or an insurance agent, you know that the financial services industry can be challenging — but rewarding when done right. What fundamental skills and strategies should you have at your disposal to thrive in this space?
John Wheeler says most financial services professionals fail because they lack the education to help them maneuver the industry. They need to invest in education. He also recommends learning to communicate insurance jargon to clients in layman's terms to build trust and establish strong relationships. Additionally, they should work together to avoid mistakes and join communities to stay current with the latest trends and best practices. With these strategies in place, financial professionals will thrive as insurance agents.
On this episode of Advisor Today, Chris Gandy and Suzanne Carawan sit down with John Wheeler, an accomplished Certified Financial Planner (CFP), to discuss how agents and advisors can flourish in the financial services industry. John explains how he got into the insurance industry, the value of education, communication tips for young advisors, and the importance of volunteering as a leader in the financial services industry.
RESOURCES MENTIONED IN THIS EPISODE:
SPONSOR FOR THIS EPISODE...
This episode is brought to you by the National Association of Insurance and Financial Advisors, or NAIFA, the #1 association for producers in financial services.
At NAIFA, we enhance professional skills, promote ethical conduct, and advocate for legislative and regulatory environments.
By joining NAIFA, you gain access to a partnership that elevates your performance while providing greater purpose to your professional work. NAIFA members are happier, make more money, and stay in the business longer.
Get in touch with NAIFA and learn more about how to join NAIFA by visiting NAIFA.org.
---