NAIFA Pineywoods of East Texas Is a Silver Chapter Excellence Award Winner
The accomplishment recognizes the chapter's commitment to delivering a quality member experience.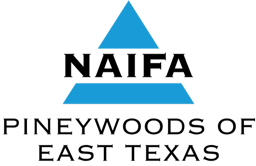 The National Association of Insurance and Financial Advisors (NAIFA) is pleased to announce that NAIFA's Pineywoods of East Texas chapter has achieved the association's Silver Chapter Excellence Award. NAIFA POET is one of 14 local chapters to be recognized with a Chapter Excellence Award.
NAIFA established the Chapter Excellence Award in 2023 to recognize the success of those chapters that have excelled in providing quality member experience to their members and achieved organizational excellence.
The Silver Award indicates that NAIFA POET is in full compliance with its chapter agreement, has a 70% or greater Chapter Health Rating, and has met membership benchmarks through September 30.
"We are proud to recognize the leaders, members and executive of NAIFA POET for working to provide a high-quality member experience," said NAIFA President Bryon Holz, CLU, ChFC, LUTCF, CASL, LACP. "Offering a uniform, high-quality member experience as One NAIFA is one of the three priority goals of our NAIFA 2025 Strategic Plan. NAIFA membership brings a high value proposition to our members and our Chapter Excellence Award winners are helping us deliver on that."
NAIFA Pineywoods of East Texas will be recognized for its achievement at the National Leadership Conference and Belong awards celebration, December 3-5, in Washington, D.C.
ABOUT NAIFA: The National Association of Insurance and Financial Advisors is the preeminent membership association for the multigenerational community of financial professionals in the United States. NAIFA members subscribe to a strong Code of Ethics and represent a full spectrum of financial services practice specialties. They work with families and businesses to help Americans improve financial literacy and achieve financial security. NAIFA provides producers with a national community for advocacy, education, and networking along with awards, publications, and leadership opportunities to allow NAIFA members to differentiate themselves in the marketplace. NAIFA connects with members in 267 different local areas between State Chapters, Local Chapters, and Local Affiliates. NAIFA members in every congressional district advocate on behalf of producers and consumers at the state, interstate, and federal levels.