Join NAIFA-Texas and their efforts to provide assistance to the families of Uvalde, Texas. Children's Bereavement Center of South Texas and First State Bank of Uvalde are two great avenues to help make an impact. Learn more below.
CBCST
Children's Bereavement Center of South Texas (CBCST or The Center) was founded in 1997 with the mission to foster healing for grieving children and youth, their families and the community. The Center's goal is to help children and their caregivers understand the depth of their grief, stabilize and preserve family relationships, and develop healthy coping skills after the death of a loved one. Their goals are:
Center for Comfort and Consults with Grief Counselors will triage the most complicated cases to a small counseling site where they will have therapists onsite daily; and also to integrate counselors into the schools. Their hope is to have therapy dogs, books for children to take, etc. They will also be training teachers and counselors in the Uvalde schools.

To create a Children's Bereavement Center location in Uvalde mirroring what they established at Sutherland Springs offering individual counseling, grief camps, and peer support groups for children and parents/caregivers.

Gifts can be made online at: give.cbcst.org/uvalde or by mailing a check to 205 W. Olmos, San Antonio, Texas 78212. Their EIN is 74-2828178.
---
First State Bank of Uvalde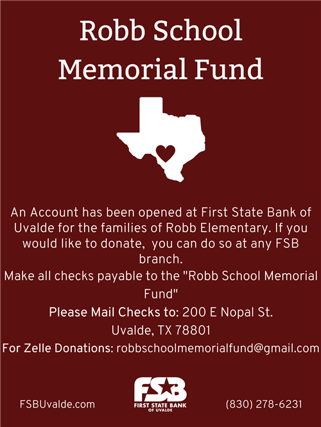 An account has been opened at First State of Uvalde for the families of Robb Elementary. If you would like to donate, you can do so at any FSB branch or mail a check to PO Box 1908, Uvalde, Texas 78802. Make checks payable to "Robb School Memorial Fund". Please call 830-356-2273 with any questions.
You can also donate by using Zell to robbschoolmemorialfund@gmail.com. If Zell asks for a name, please use First Name: Robb and Last Name: School.
---
NAIFA-Texas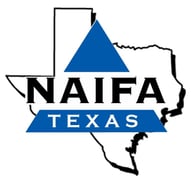 The Mission of NAIFA-Texas is to advocate for a positive legislative and regulatory environment, enhance business and professional skills, and promote the ethical conduce of its members. To learn more, please click here.