The NAIFA-Texas Board of Directors is proud to announce their chosen recipient of the
2021 NAIFA-Texas YAT Leader of the Year Award, Rick Demko. The NAIFA-Texas YAT Leader of the Year Award recognizes an advisor's commitment to NAIFA including service on local and state and committees as well as participation in the Leadership in Life Institute (LILI); involvement with state and/or federal legislative efforts; participation in external service work such as charities; and an ability to inspire others.
This award is not associated with the YAT Leader of the Year Award that is presented at the national level. Nominations for the NAIFA National YAT Leader of the Year Award open each year during the "I Love NAIFA Month".
---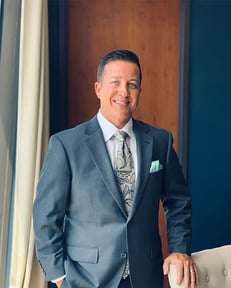 Rick Demko, CLU, RICP, LUTCF, LACP
Centric Risk Strategies, LLC | Director of Insurance
Rick Demko is the Director of Insurance for Centric Risk Strategies, LLC, a rapidly growing financial services organization within Centric Advisors, LLC. Focused predominately on the protection side, Rick and his team lead the development and implementation of all lines of insurance.
One prevailing theme that those around Rick quickly discover is his message that Life Insurance is a tool. An asset in the right hands, particularly in alignment with a well thought out and executed plan.
Originally from St. Louis, Rick and his young family moved to Houston in 2015. He is a Past NAIFA Houston President, current State Director, Texas PAC Board Member, Advisor Today 4 Under 40 recipient, IFAPAC Diplomat contributor, six time Quality Award recipient, member of the Society of Financial Service Professionals, Finseca, and a Top of the Table qualifying member of the Million Dollar Roundtable. Rick has earned his Chartered Life Underwriter (CLU), Retirement Income Certified Professional (RICP), Life Underwriting Training Council Fellowship (LUTCF), Life and Annuity Certified Professional (LACP), and is currently finishing the ChFC.
Rick's local involvement includes being a member of The Woodlands Church, Assistant Governor for Rotary District 5890, committee member of the Houston Livestock Show and Rodeo, Wing for the Texas Interstate Touring Side Rugby Club, Competition member of the Rafter 7 Cookers, and a Firefighter/EMT in Spring, TX. Mentoring, consulting, and volunteering are all part of Rick's core beliefs, civically as well as vocationally.