Advancing the Standard of Leadership Thinking
About the LILI Curriculum
The NAIFA Leadership in Life Institute is a six-month in-person program offered exclusively to NAIFA members who are committed to growing intellectually and professionally through deep introspection and discussion. The intense curriculum creates a unique learning environment that encourages participants to bring out the best in themselves and apply what is learned across every aspect of their lives.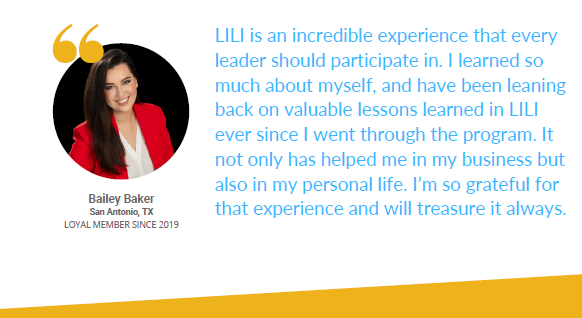 Requirements for lili
To be considered for an upcoming LILI class, potential students must meet the eligibility requirements and be approved by their state.

Be a NAIFA member in good standing
Commit to attending all 6 in-person sessions
Complete required assignments
Pay student tuition
2021-2022 LILI Class Schedule
The NAIFA-Texas LILI Classes will be moderated by Carrie Welch and Jason Talley and held in-person in Austin. The schedule of classes is as follows:

Monday, October 11, 2021
Monday, November 8, 2021
Monday, December 6, 2021
Monday, January 3, 2022
Monday, January 31, 2022
Wednesday, February 23, 2022 (in Houston, in conjunction with the NAIFA-Texas Annual Conference)
TUITION AND how to apply
NAIFA members must first apply to participate in LILI. Once approved, students have two tuition options.

Print materials: $900
Digital materials: $800
Visit tdc.naifa.org/lili for additional information and to apply.